The work of Chikako Kaido is a process of transformation of physical sensation into visual impressions and experiences.
The base of her movement and design refers to a deep, undefined feeling for one's own and others' bodies.
In dialogue with this intuition, Kaido's choreographies give a specific weight and allow speed, tension and colours to develop in space.
Strong visual and musical elements contrast with the precise movement material, which reproduces and explores bodily states in a unique and impressive way.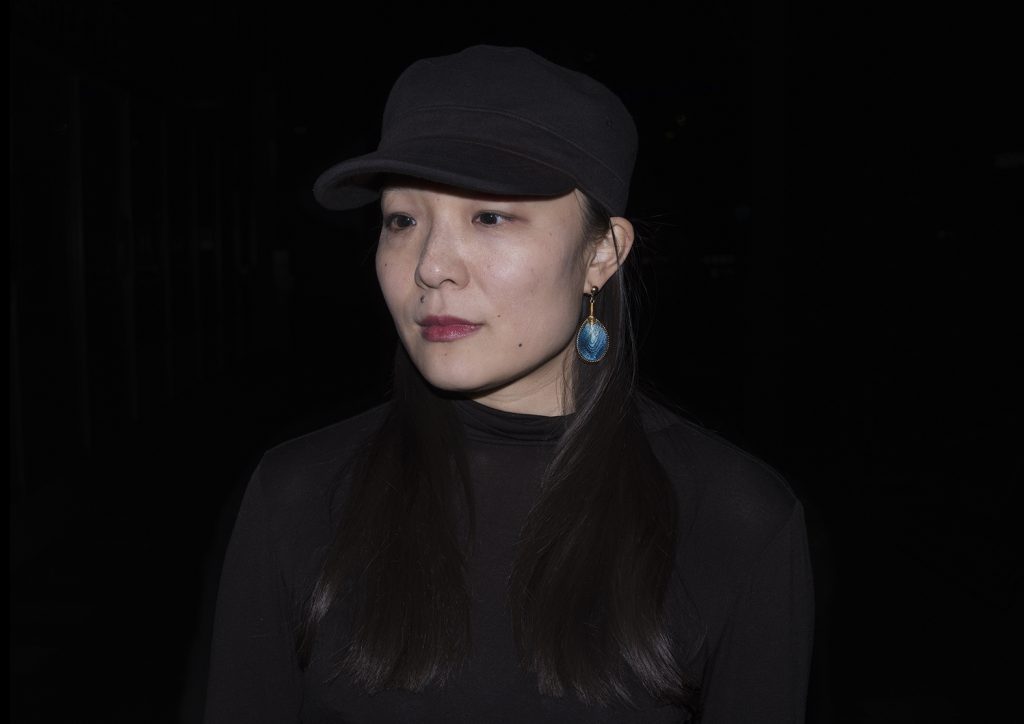 Chikako Kaido studied at Japan's women's university, faculty of integrated art and social science in the Department of humanities and cultures and dance and choreography in the master's programme at the Folkwang University of the Arts in Essen. She then worked as a choreographer and dancer at the Folkwang Tanzstudio. Her choreography "Tanzsolo" received the 1st prize at the Soloduofestival in Budapest in 2008. Since 2010 she is working as a freelance choreographer and got nominated for the Kurt-Jooss-Prize with her choreography "There is an Abyss" in the same year.
In 2012 she was awarded the Jury Prize at the MasDanza Festival for her solo work "Devision" at the Redblick Theater in Yokohama. In the same year she participated as a choreographer in the residence program "Think Big" of the Staatsoper Hannover as part of Tanztheater International.
In 2013 she was nominated for the Kurt-Jooss-Prize a second time with her play "Schattenlinien".
Her pieces "Homehazard" (2014), "Azamino-tokio"(2015), "Die Insel" (2016), "Gebrauchsanweisungen zum Verschwinden" (2017), "We Need Fiction"(2018), "From nothing to one"(2018), and "Black is the color, None is the number"(2019) were shown at Weltkunstzimmer/Düsseldorf, Pumpenhaus/Münster, Fabrik Heeder/Krefeld, and Terpsichore and Session House/Tokyo.
Her current project "Age of curse" will be shown in October 2019 in Düsseldorf and November 2019 in Tokyo . In 2020, She got an award from Düsseldorf city, called " Foerderpreis für Darstellendekünste 2020″ .
---
皆藤千香子 
ドイツ在住の振付家、ダンサー。日本女子大学人間社会学部文化学科、ドイツ、フォルクヴァング芸術大学ダンス科、大学院振付家コース卒。フォルクヴァングタンツストゥーディオ(ピナ・バウシュ、ロドルフォ・レオーニ 主宰)のダンサー、振付家を経て、2010年より主にドイツ、デュッセルドルフにおいて活動中。横浜ダンスコレクションMasdanza賞、2009,2012年、クルト・ヨース賞ノミネート、 Masdanza グループ部門2位、ソロ部門審査員賞など。大学時代からヨーロッパ各地のダンスフェスティバル、日本、韓国で作品を上演。 ドイツにおける単独公演としては、"Homehazard"(2014) " Azamino-Tokio" (2015) "Die Insel" (2016) "『私』が消える時" (2017) "We Need Fiction"(2018) "Black is the color, None is the number"(2019)" Age of curse" (2019) など。クラシックバレエ、モダンダンス、舞踏に影響を受けた身体表現とピナ・バウシュ的なダンスシアターの手法を使いながら、独自の表現を追求。ダンサーとしての活動は、ソロ作品の発表のほか、2009年から現在まで、
ジャン・サスポータスのプロジェクトに参加。また、 故齋藤徹、喜多直毅というジャンルを超えて活躍する音楽家や現代美術家とのコラボレーションも高い評価を得た。2020年、デュッセルドルフ市の文化賞、"Foerderpreise für Darstellende Künste 2020″ 受賞。